Nokia 3310 used to be so popular among the users of every age since its launch in September 2000. The set is always remembered due to its changeable plastic case, hidden antenna, the T9 text input and the most favorite Snake game. And now a Robust Nokia 3310 has come out of the curtain whole! the revival is brought by some pioneer employees of the firm that bonded together and re-constructed the very known phone into a versatile handset.
The Finnish company exhibited the new product at the Mobile World Congress expo in Barcelona. The very innovative Nokia 3310 is keenly indestructible in its structure and it is very practical in the respective design and the phone keeps plenty of intriguing features as well.
The handset carries a very dominating feature as it had before; the battery life span is so long that it lasts a month with a talk time of 22 hours, quite surprising? 3310 gives you the comfort to use it while your smartphone's battery gets drained by just using SnapChat.
Moreover, the casual handset carries 2.5G, surf the internet via Opera Mini browser. You can install Facebook, Twitter, WhatsApp, etc. The camera just has 2 megapixels. The phone carries a 2.4 inches' peripheral screen QVGA screen is protected by a curved polarized window for improved readability and clarity in sunlight with a resolution of240x320 but above all it is not a midnight blue and grey marvel phone anymore but merrily, it is colorful. Most of all it has Snake game!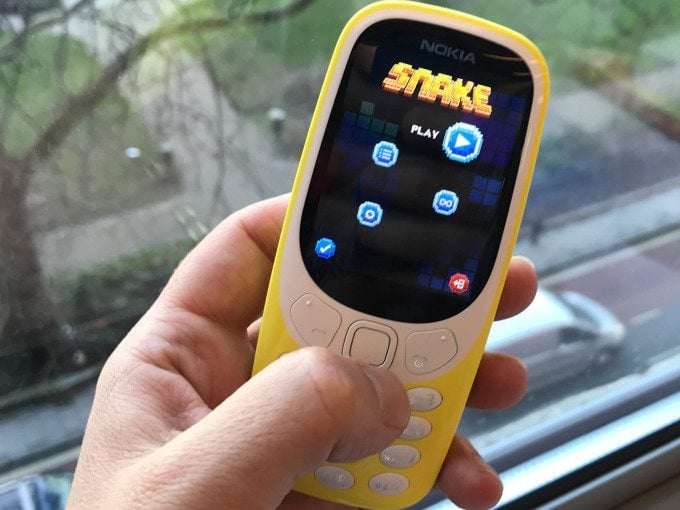 The $50  Robust Nokia 3310 supports storage of up to 32GB in microSD and can play MP3 songs, and the 2.4-inch. The new version comes in the familiar colors like blue, silver-grey adding a funky spec of bright sunshine yellow and warm orange-red colors.