Antutu Benchmarks for OnePlus 6 with score 276,510 Points just amaze us. The ever increasing charm and curiosity fir the Android world has made us hear a lot of rumors and leaks for flagships other than Galaxy S lineup of Samsung, in H1 this year as compared to the last year.
As a couple of days ago we saw OnePlus 6 (in leaks) with a notch at the top, and it was the initial leak for the device that made us know that the company is following trend set by Apple with iPhone X.
Now, according to the AnTuTu score declared for OnePlus 6 make us clear that the company will not shy away in terms of performance as the scores we saw for the device, place the flagship right at the top of current & upcoming flagship smartphones.
The leaks we got on 9 March, if true, will shake things up permanently for Android flagships. Like Samsung (wearing the flagship crown and has led consistently in Android gadgets, outlasting other companies like LG, Sony & HTC) if the OnePlus 6 gets emerged as a cost efficient alongside introducing high-end features and specifications the flagship crown will in hands of OnePlus.
Must Read: Xiaomi is launching a 'compact powerhouse' smartphone, most likely the Redmi 5, on 14 March
Samsung's flagship crown is also in danger due to OnePlus and Xiaomi's excellent offerings, which these companies are eager to improve.
If Samsung manufacturs budget friendly smartphones, with the full capability to take on the giants in computing terms OnePlus and Xiaomi make its mettle by designing devices that are fully capable of standing aesthetically on their own feet.
According to the new leaks for new smartphones from OnePlus and Xiaomi, gadgets from both of the companies will give Samsung's Galaxy S9 & Galaxy S9+ a run for their money.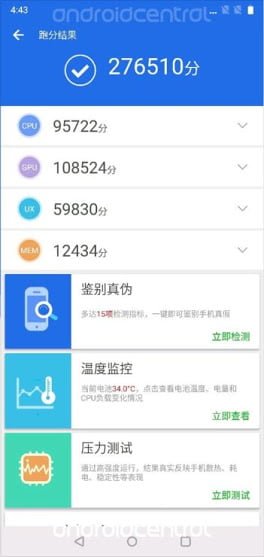 Though we know that benchmarks do not paint an accurate picture for holistic performance of a device, fantastic Antutu score for OnePlus 6 amaze us. Benchmarks do provide the scores for a good metric allowing a standardized comparison.
OnePlus 6 is expected to dominate Antutu. Benchmarks of the smartphone show 276510 point score, enough to beats every available and rumored device.These point score also outperform alleged benchmarks for the upcoming Xiaomi Mi Mix 2s.
This result also suggests that the OnePlus 6 will feature Qualcomm's Snapdragon 845, but the score mentioned above make us wonder at the amount of RAM that OnePlus will equip the smartphone with.