Here is guide to use Instagram's latest "Focus Mode" feature. New day with new Instagram updates! Recently Instagram rolled two amazing new features and the biggest news is its portrait mode feature called "Focus". The purpose of featuring "Focus Mode" is to blur the background as the moment it detects your face in the scene it will focus on your face instead of background.
If you don't have dual-camera setup on your mobile then this feature will give you a portrait mode effect and it will softly blur background. The latest update works on the iPhone SE, 6S, 6S Plus, 7, 7 Plus, 8, 8 Plus and X, along with latest Android devices.
However, you can say that Instagram's focus mode is basically the app's version of Apple's Portrait Mode.
The second feature is about mentioning your friend in a most as now you can mention other users in stories with a sticker.
Must Read: Instagram plans to launch video & audio calls system
If you want to get awesome snaps and portrait photographs with your Instagram camera instead of professional one then here is guide about how to use this new feature.
How to use it?
Open your Instagram app then swipe to the left to open the camera.
At the bottom of screen, scroll through the options
between Boomerang and Superzoom you will find "Focus"
Select it, then point the camera at someone's face and the background will blur automatically.
It is available for both modes, you can take a photo or video
Now, share it on your story, send it to a friend or you can save it for later use.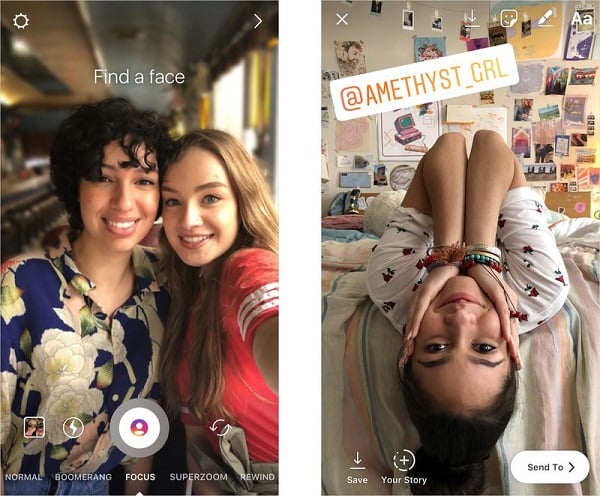 On the other hand, the social media app is testing a Snapchat QR code-style feature called Instagram Nametags.
 Now, let's see if Instagram's Focus mode can try to win with the portrait mode that is available in most of the current smartphones' cameras.
Have you tried the new "Focus Mode" feature of Instagram yet? If not, then what you're waiting for? Go and give it a try, then share your experience with us in the comments below.