Confirmed price of Galaxy Note 9 having 128 GB of storage and 4000mah battery. The new sensation from the house of Samsung is upcoming "Galaxy Note 9", which has been subjected to a huge number of leaks and rumors in recent days. However, everyone was eager to know the price tag of Galaxy Note 9 and Samsung has just confirmed it through a pre-order poster.
In a pre-order poster which has been leaked from Indonesia, the prices mentioned are of two variants;
The base model
The up-specced variant
Price of base model
The base model which will feature 128 GB of storage is priced at 13,500,000 Indonesian Rupiah. In Pakistani rupees it is equivalent to almost Rs.120, 000.
Price of up-specced model
The up-specced model comes with 512 GB of storage and it will cost you 17,500,000, which is equal to Rs.155, 000.
Well, after adding custom duties and other tariffs and you can expect the phone's base model to cost Rs.130,000 and the up-specced model will priced almost of Rs.165,000.
Must Read: Tanzeela To Become Member Of Sindh Assembly As The First Sheedi Woman
On the other hand, the preorder poster has confirmed some other features as well like color options and its variant details.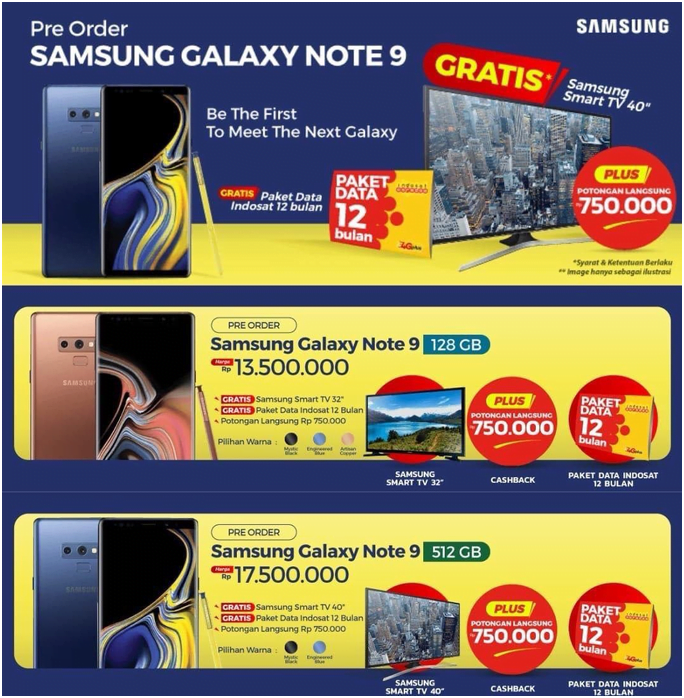 Color options
 The Note 9 will launch in three colors:
Mystic Black
Artisan Copper
Engineered Blue
Well, this news certainly erased the early rumors of the Note 9 launching in 5 colors.
According to the poster, Samsung is only launching two variants of the Note 9. But, what the poster doesn't confirm is the specs of the phone, so don't worry as we have got some famous rumors for you to give you a clear idea what to expect from Galaxy Note 9.
Rumored Specifications of Galaxy Note 9
Talking about Ram and storage, as base model's storage has been quoted as 128 GB storage in the pre-order poster and it is expected to come with 6 GB of RAM.
On the other side, the up-specced variant is predictable to come with 8 GB of RAM. If it gets 8GB ram, then Note 9 will be Samsung's first mobile to come with 8 GB RAM. Since, their current leader is the S9+ with 6 GB RAM.
The rumors of up-specced variant's 512 GB storage has been looming around since last 4 months and it looks like that progress just got confirmed through poster.
We are 100% sure that the Note 9 is confirmed to have a 4000 mAh battery, ultimately largest battery Samsung has ever put in a mass-market smartphone.
Moreover, the phone is likely to come with the Snapdragon 845 chipset, which is the present flagship SoC of Qualcomm, the biggest chip manufacturer in the world. The phone's display is predictable to be a 6.3-inch Quad HD+ Super AMOLED.
Price tag of Galaxy Note 9 is giving tough time to OPPO's Find X
After OPPO's latest flagship "Find X", the Note 9 is all set to be the most-expensive smartphone of the country. Find X was retails for Rs.129, 999 in Pakistan, now Galaxy Note 9 will take its place to be the most expensive phone in Pakistan.
Let's see, will the Note 9 be successful in capturing the premium smartphone market or will its price tag discourage most users away?