While the ride-hailing services are the talk of the town these days, NetMag team got a chance to meet Uber's Regional General Manager for the Middle East and Africa Region –Anthony Le Roux and asked him some of the most intriguing questions Pakistani users have in mind. We asked one of the key executives of the world's leading ride-hailing company, Uber, the most crucial issues that consumers in Pakistan and around the globe are facing these days. Here's what Mr Le Roux shared with us;
How you rate the Pakistani market when compared with the vast territory you oversee the Middle East and North Africa notably Egyptian experience?
I am really excited about the Pakistani market and what Uber is doing here, as I have been here a couple of times. I think that Egypt is potential, in some respect, the most similar market across the region that I cover, we probably seek in Pakistan. And the reason for this is that the most notable, older and growing city of Uber is Cairo in this region and the Pakistani market reminds me of a very similar exponential growth at a massive scale, as we witnessed in Egypt. The other parallels we compare in both of these markets are some of our products which were even launched at a fairly similar time. Both here and there we have Mini, Go, X and Moto as well. It's quite interesting to see the competition between the two markets.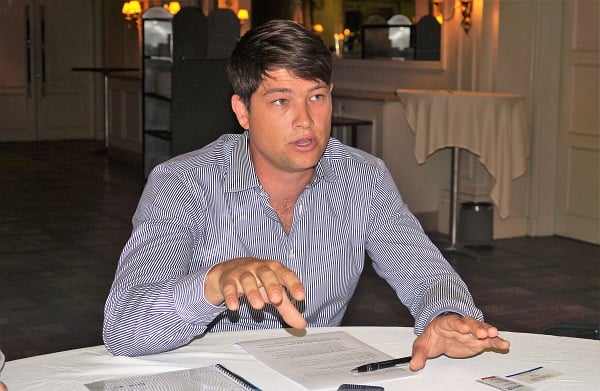 So, what are the differences you see in Pakistan and other markets?
The most obvious differences we see here in Pakistan and other African markets would definitely be in terms of products that we offer here and over there. Lagos (Nigeria) for example is one of the world's biggest cities like Karachi. There are popular products are UberX and user select. There's no market for Moto or Auto. So whilst we operate in both of these competing mega-cities, I can certainly say that in Karachi we have a much wider range of products and much wider access to the consumers. So, we can assume that the success rate of our new products in Pakistani market is quite satisfying as compared to other markets.
How you find the Pakistani market? Do you achieve your goals in the timeframes you set here?
The Pakistani market has really surprised us, not just me, but a lot of other executives in Uber's ecosystem. The rate of growth, the number of cities and the range of products that we launched here is beyond our expectations.
In Pakistan, Uber has a strong presence in 9 cities including Lahore, Islamabad, Rawalpindi, Karachi, Faisalabad, Gujranwala, Hyderabad, Peshawar, and Multan. The products that we have launched in Pakistan in a short span of two years include UberGO, UberMINI, UberX, uberAUTO and UberMOTO. Uber has created over 100,000 flexible economic opportunities and moved hundreds of thousands of people across Pakistan. The insights from our last months' stats show that Uber has around 30,000 active driver partners in the previous month who have completed at least four or more trips.
Where do you stand now in terms of market share, if we particularly talk about your direct competitor in Pakistan i.e. Careem?
We believe we are in a very strong position, and getting stronger week by week. That's not just gross bookings, but in the metrics that matter to our riders and drivers. We compete in many markets around the world and understand what it means to have a leading position, and we are able to bring in best practice leveraging our global scale and technology and apply it in the region coupled with recent mergers freeing up capital and resources to invest back in the region.
Tell us about your plans for food delivery systems on the anvil for launching in Pakistan?
UberEATs is expanding across the region and is fast becoming the largest food delivery business in the world. We are growing our services here in Pakistan and based on the success we are seeing in the Middle East, I would say we are always exploring opportunities.
What are some of the regulatory issues that you are facing particularly in Pakistan?
We see tremendous potential in Pakistan, however, it is important that the regulatory framework is reviewed and amended in favour of light touch and scalable licensing regime for ridesharing companies, a sensible tax framework that supports the digital economy, promotes FDI and tech entrepreneurs in Pakistan, and also allows our driver partners to benefit from the economic opportunity on offer and riders to benefit from enhanced connectivity.
We have had some gains across provinces when moving towards a regulatory regime and would like to see the momentum continuing with the new regime – for example, requests for unifying regulations through a Federal National Task Force on licensing, the partnership with BISP.
What are you doing about the safety of drivers in Pakistan, as we have recently heard about a few horrible incidents in major cities of the country?
Our teams are striving to innovate and build cutting-edge safety technology, and are always updating policies to ensure high standards of safety and quality on our platform.
We recently launched an insurance product, known as 'injury Protection' across Pakistan in collaboration with Chubb Insurance. This new product covers all eligible driver-partners in Pakistan for major costs resulting from accidents or injuries that occur on trip up to certain limits.
In-app, we offer the 'Share my trip' feature, where driver partners can let friends and family know about their whereabouts and trip status. All riders need to create an account and provide their name and phone number before they can request a ride. So when a driver partner accepts a request, they know who they are picking up and so will Uber. Drivers also receive turn-by-turn directions in the app, so they can focus on getting to the destination safely.
Must Read: UberPITCH broadens road to opportunity for startups
We also conduct periodic training for our driver partners in partnership with law enforcement agencies. These trainings are typical regarding safety, traffic rules and regulations. Training on social norms is also mandatory for driver partners, where they on how to "recognize, prevent and take positive action" against inappropriate behaviour. Last, but not the least, Uber's community guidelines are available online, which lay down the ground rules to ensure that riders and drivers have a five-star ride when using Uber.
We believe we introduced an industry first driver hour limit; it's another example of how Uber uses technology to help enhance driver and passenger safety.
What long-term business growth prospects you see for the regional market and Pakistan in particular?
We are growing rapidly and see Pakistan as a country full of opportunity, where ride-sharing has just scratched the surface, as both a transport option and earnings opportunity.
Uber's big 3 advantages are operational excellence, tech innovation and global scale and we are bringing that here to Pakistan through the growth of our low-cost products, which is growing at exponential rates.
Must Read: Uber extends insurance coverage to include drivers partners across Pakistan
We are doubling down in the region following recent mergers elsewhere, which has freed up resources and capital to invest people product and partnerships to better serve this region. We will continue to work closely with the government towards a sensible and modern regulatory framework so that Pakistanis continue to benefit from technologies like Uber.
Mr Anthony Le Roux General Manager the Middle East & Africa with Amir A. Khan Editor-in-Chief NetMag, Mr Shahram-ul-Haq from Express Tribune, Mr Safi GM Uber Pakistan and Mr Haider Bilgrami Head of Corporate Communication Uber Pakistan during the Interview.
Being a senior manager how you see your personal growth in the organization and how much it has contributed to your personal development?
So, I started with Uber almost five years ago. "I'm a South African – the worthiest opponent of Pakistan's cricket team. Yeah! We have to wait for the next world cup to come face-to-face."  I joined Uber as the GM in Cape Town, building the foundation of Uber's South African business, after which I moved on to become GM of Eastern Europe, where we launched several cities in CIS, Poland and Baltics.
Must Read: Uber BOAT starts serving the people in Middle East
Around two years ago, I was promoted as the RGM of the Middle East and Africa region. And certainly, growing over from managing a small team to a large team is a difficult task but I learned a lot from this organization. But my principle has always been the same that I always hire people, who are much smarter than me. That's how we get to benefit from their incredible abilities and skills and continue to work in a growth-centric environment.
There's a lot of fuss that Uber is working on flying taxis and self-driving cars, so how would you like to comment on that?
Yes, we are actually working on flying cars and it's a product that will use aircraft rotor technology that could also be used in future military aircraft. I would say that we are certainly years away to launch UberAIR anywhere around the world. But when we do get there, it would be really interesting to see a consumer use the most lenient and luxurious way to reach from point A to B. Meanwhile, the test drives for our autonomous vehicles are already underway in few states of the US and we are very near to the perfection in this tech. In the relative time that Uber takes to launch its driverless product at a commercial scale, we will soon be witnessing the launch of the first prototype of a flying car.