On December 15, Indian policemen, geared up with tear guns and sticks, forced their way into the mosque of Jamia Millia Islamia university in New Delhi, they besieged the female students who were hiding in the mosque. Moreover, Police vandalized the campus, after which they entered campus mosque and used tear gas on students and 'lathicharged' them. Afterwards, Delhi police soon started beating the girls and students in the mosque. They covered every corner so that nobody could escape. The students cried for help, but police went savage. They broke the ankles of one female student, while another one left with broken ribs and arms.
However, a similar situation had erupted, not only outside the mosque, but in whole India from Delhi to Assam and from Meghalaya to Manipur, and Tripura. The students and Muslims are asking one question: "are we terrorists?"
Must Read : India praises DG ISPR for dominating narrative warfare
CAA and NRC
Protests were erupted soon after India passed a controversial Citizenship Amendment Act (CAA) on December 12. They also proposed nationwide implementation of National Register of Citizens (NRC) – originally for Assam – that would exclude Muslims in particular. However, if CAA would be implemented in the state, it would further allow the Bangla Hindus to legitimately enter in Assam and dominate the local 1.9 million Muslim population.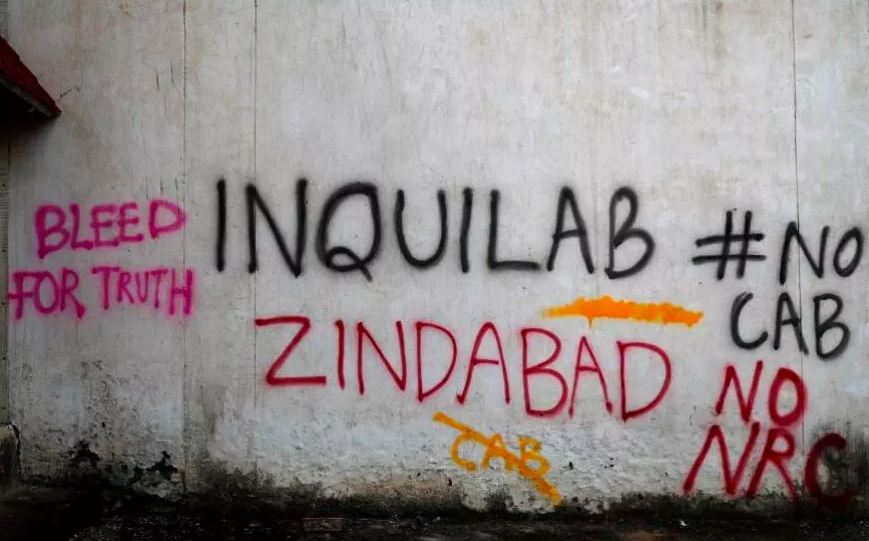 Protests
"After the Nazi era, many people claimed not to have known anything about genocides or atrocities or stated that they were only passive," said Jakob Lindenthal, who is a German student later asked to leave India after joining the protest.
Muhammad Minhajuddin, a student of AMU, while giving an interview to a local TV said, "I was studying with a group of friends in the central library, when 20 to 25 policemen attacked us" he further added that, "my eye was hurt after one direct blow, and later it was revealed after the treatment that I lost my vision"
"What is your problem with CAA, you anti-nationals? Why don't you go to Pakistan?" Tazeem Khan another student who suffered multiple injuries, was asked by the policemen.
"A cop even threatened to urinate in my mouth," he said while talking to a news channel. "Is it because I belong to AMU or I am a Muslim?"
Anything that can tie a person to a Muslim identity has become a target for Indian police. Omar Rashid, a correspondent for The Hindu newspaper was arrested by police "Cop said he would tear out my beard," further asking him to "keep my journalism to myself, in abusive Hindi".
Hundreds of thousands of students across India are protesting. State machinery is freely using force against them. Streets and institutions are turning into war zones. Consequently, as a result, more than 20 people died.
Narendra Modi after the protests
Prime Minister Narendra Modi has defended the colonial era Act and said, "we passed this bill to help the persecuted," adding that, "we need to respect India's MPs and its parliament".
Institutions like Harvard and Cambridge held solidarity marches against the brutal use of force against students.
The burning India
Now that the whole India is in chaos from Kashmir to the border state of Assam. When policies based on racism and Jingoism get promoted, the states get vulnerable from inside. In fact, India started running in reverse gear ever since BJP government stepped in. 
Indians are starting to realize that they are entering in an era of "modern dark age" similar to the European early middle ages after the fall of the Roman empire when whole Europe went into demographic and cultural chaos and turmoil. Similarly, Indian nationalists and preachers of Hindutva are pushing the whole country into an ultimate mayhem, particularly one from there is no turning back. Modi on the other hand shoved half of the nation into an identity crisis.
Perhaps, Age of enlightenment will not come for India, at least not before a revolt against current mindset. This may sound far-fetched, but after witnessing the facts, it seems that India has changed in just six years.
Between fascist mindset and religious discrimination and prejudice India has now lost Mahatma Gandhi's spirit who once said, "I object to violence because when it appears to do good, the good is only temporary; the evil it does is permanent."