A 5 year old boy, who was reportedly missing, now found dead. He died due to pressure and suffocation. He was taped and locked in the cupboard. By the time the police reached, Omer was dead. Omer was held captive by his uncle and father's cosines for ransom. Five perpetrators have been arrested so far.
On December 21st evening, Omer was outside his home in Bhara Kahu when his relatives picked him up. At first, no one took notice of the incident. By nightfall, his family started to worry about him. The police were later involved and started covering the whole area of Bhara Kahu.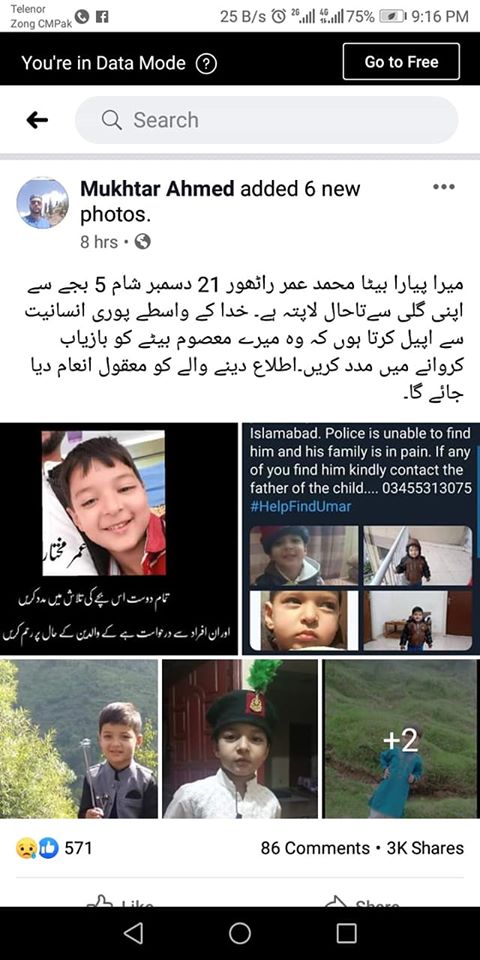 Later, Omer's father, Mukhtar Rathor claimed that his son was kidnapped and filed a complaint in Police. The police started searching the area and teams were dispatched to search door-to-door for the boy. Dogs were later introduced, but without any luck, the boy was nowhere to be found.
Omer was the youngest of six children of Mukhtar Rathor. He was in pre-nursery at Islamabad's OPF F-8 campus.
Every day the boy used to sit outside home to wait for the return of his father from work.
Must Read : Citizenship bill: India is pushing itself into the 'Modern Dark Age'
The neighbors said that he was very dear to the whole neighborhood and everybody loved him. He was everyone's favorite in the street.
The police, later geo-fenced the area and tracked the mobile phone calls of the area. Afterwards, they picked up a man who confessed to kidnapping, also gave up his location of captivity.
The police rushed to the location, but his body was recovered from a house in Islamabad, his whole body was tied and his face and mouth was heavily taped, in addition, culprits of the incident locked him inside the cupboard, where he suffocated to death. Unfortunately, the boy was dead before police could arrive.
Whole incident went viral on social media. People of the capital city are in shock and demanding justice from the authorities. People on social media are condemning the incident. They are all mourning his death. Five persons involved are arrested including his uncle.