PSEB organized a consultative seminar on draft IT Policy 2016
PSEB and Ministry of IT have organized an interactive seminar for consultation on draft IT Policy 2016 here in Islamabad today. CEO's of almost 200 IT Companies have participated in this interactive session.
The Minister of State for IT & Telecom Mrs. Anusha Rehman has chaired this seminar and addressed all the queries posed by the participants extensively. Member IT Syed Raza Abbas, MD PSEB Mr. Asim Shahryar, Member Legal Ms. Aamena Sohail and other senior officials from MoITT, PSEB, and Chairman @Pasha were also present there.
MD PSEB in his inaugural speech welcomed the participants and thanked Minister of IT & Telecom Mrs. Anusha Rehman for her generous support and visionary leadership which reinvigorated the whole sector. Therefore, IT sector of Pakistan is being recognized now everywhere domestically and globally.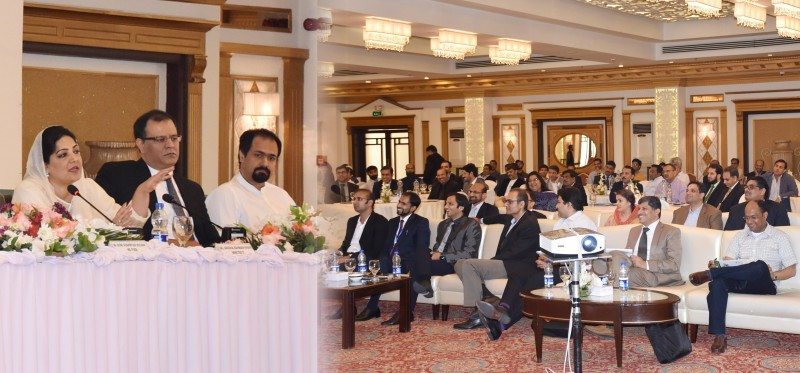 Minister for IT & Telecom Mrs. Anusha Rehman, while addressing to the participants of the seminar, stated that government is  committed to achieve its vision of accelerated digitization, and all its efforts to materialize this vision. We have created an enabling environment for the IT industry and SMEs and large IT companies should come forward to market their products and services internationally to grow IT exports. She mentioned that IT remittances have grown over 41% since last year. The goal of ministry and PSEB is to take IT exports to more than $5 billion by 2020. For this purpose, PSEB has planned different support programs including participation in international IT exhibitions with IT companies, local IT events, meetings with foreign IT visitors, CMMI training and certification, capacity building through internships and trainings, and infrastructure in the form of new IT parks. The minister emphasized that IT companies should report their foreign remittances under specific state bank's code so that an accurate picture of IT exports of Pakistan could be aggregated. MD PSEB, Mr. Asim Shahryar Husain, highlighted PSEB's contributions to IT industry within yester years and also shared future plans of the company.
The Minister stressed that industry has to reciprocate and collaborate with the government on defining KPIs for the IT sector over the next 5 years such as  increase in remittances, foreign direct investment and employment generation so that a solid case can be made for tax exemption on exports to FBR and Ministry of Finance. She said that IT industry can easily exceed exports of $5 billion over the next five years because of the cost advantage in Pakistan and the big IT talent pool available locally. She focused on the concept of gender balance in the IT industry and mentioned that the ministry has kept a minimum percentage of 30% females in all industry support programs such as internships and trainings to motivate more females to join the IT workforce.
This was followed by a presentation by Member IT, Syed Raza Shah, from ministry of IT who talked about different areas of focus which have been included in the new IT policy including infrastructure development, big data, persons with disabilities, e-services, local language content, IT exports, e-governance, entrepreneurship, legislation, and human resource development. This was followed by a panel discussion with the audience.
The participants/ CEOs of large IT companies termed this interactive session as the highly useful learning experience. Minister has directed the PSEB authorities to arrange such more interactive sessions in all other metropolitans/capitals.
PSEB also showed a documentary, it has produced to promote the IT industry of Pakistan which was very much appreciated by the audience.