Finally, the global technology master, Huawei has revealed the launch schedule of it two high technology marvelous smart phones for Pakistan, today. High end, superior quality and remarkable flagship smart phone Mate 8 is going to be launched on 31st of this January. Alongside Huawei Mate 8, delicately stylish, metallic bodied and super cool Honor 5X will be on the stage. Huawei has justly combined the options for the customers so they may either get Huawei Mate 8 or Huawei Honor 5X. And it is to be admitted there would be customers who will go for the both handsets.
Huawei Mate has a large screen, offering the clear and vibrant experience of colors and best quality of the display. Mate 8 is a phablet that will satisfy the customers' multi purpose requirements. It is a smart phone with stylish looks and elegant in design on a hand. While on the other side Mate 8 has best chipset and combinations of high primary, secondary memory combinations, making applications running faster than ever experienced before in any smart device. Huawei has already offered to pre-book against the initial deposit of Rs. 5000/- to its customers amid a lot of surprise gifts and prizes. Huawei Mate 8 high version is available for pre-booking on Huawei brand shops for which Huawei has already given the detail information yesterday in a press release.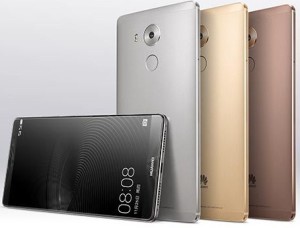 High Version Mate 8 has a splendid combination of 4GB RAM and 64GB ROM, that is awesome when it comes to the multiprocessing on one hand while storing large volumes of data on the other. Huawei is offering Bluetooth speakers, cash vouchers of Rs. 10000/- value and free passes for the Runway Fashion Show in pre-booking offer. This is just fun to have pre-booked your Mate 8 with Huawei. Even adding to this, Mobilink is offering 12GB free internet for 12 months with Mate 8. What else one can wish for??  Similarly, it is expected that Huawei will also offer glamorous launch for this high technology smart phone. Huawei Mate 8 high version price is Rs.69,999 whereas the standard version (with 3GB RAM and 32GB ROM) will be available at Rs. 59,999 only.
Honor 5X is no less in specs and designs than any other smart phone by the competitors. Most likely it will even break the record of sales set by the previous mid range (or more precisely low end) smart phones by Huawei.  Huawei has crafted Honor 5X with an ultimate streamlined body that gives it smooth touch while holding it. Most exciting thing in Honor 5X is the multi-purpose fingerprint scanner. It can be used to fix different fingerprints of your to fix different application run.
Honor 5X will be available at the price of just Rs. 29,799 after its official launch ceremony alongside the smart phone of the era, Huawei Mate 8.
Huawei has revolutionized the technology world and it has been swaying the consumer market across the globe but important to note is that Huawei has achieved consumer trust through high-quality products, relatively best prices and lot of surprise gifts for Huawei brand lovers. It is strongly expected that the above said launch of these two marvelous smart phones will start glorious 2016 for Huawei.