Huawei P8 Max-A Super Big Smart phone with Super Cool Features
Huawei P8 Max is a smart phone which flaunts a large screen and super amazing camera features. This Huawei prodigy belongs the Huawei P series, it matches its sibling smart phones in respect of super unique but outshines them in size. P8 Max is a fully feature loaded smart phone, although by the looks it ought to be called a phablet because of its 6.8-inch large screen. Anyways, let's throw some light on the features and specifications of this mega smart phone.
Key Specs:
8-inch, Screen
1080 Full HD, Display
HiSilicon Kirin 64-bit Octa-Core, Processor
13 MP OIS (enhanced) Rear Camera, 8 MP front Camera
Android 5.0 (Lollipop), EMUI 3.1, Operating System
3 GB RAM, 64 GB ROM, Memory
4360 mAh, Li-Po, Battery
Design:
The mega design of the Huawei P8 Max has taken the idea of big smart phones to another level. This smart phone, though too big to be operated single-handedly, has got an amazingly beautiful façade. The P8 Max possesses an elegantly crafted aluminium body which is 6.8 mm slim with a well balanced, tough feel. Although, some people might express liking because of the big design still P8 max's exclusive features are worth it.
Screen:
P8 Max's screen is 1080 pixels Full HD and 6.8 inches large, it is undoubtedly a strong addition to this smart phone. This screen exhibits bright, vibrant and detailed display. The pictures and texts, everything is displayed, vivid and clear to the eye, suitably sharp for daily routine work.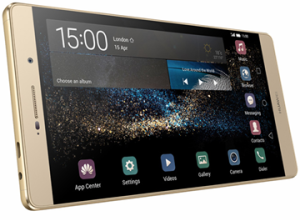 The large screen and brilliant display, seem more like a treat when playing a video because of these, one always loves big clearer images with smooth video flow. Huawei has manufactured its recent smart phone, where screen captures most of the smart phone front, similarly is with P8 Max, the phone's bezels are minimized with 83% screen to body ratio. It is also worth mentioning here, that Huawei has utilized Corning Gorilla Glass 4 in the body of P8 Max, which ensures the durability of smart phone and its resistance to scuffs and scratches.
Features:
The feature list of P8 Max is as striking as its appearance. The processor of P8 Max is HiSilicon Kirin 64-bit Octa-Core, it offers more enough power to the smart phone to carry out smart and swift functioning like launching of apps and multitasking with complete ease. This processor is supported with 3GB RAM, 32 GB ROM and this memory are extendable up to 64 GB with MicroSD card.
Like previous Huawei's smart phone, this also operates on Android 5.0 Lollipop and Huawei's Emotion 3.1 user interface. Huawei has also enhanced P8 Max's software skin and it is more refined and sophisticated than in the previous years.
The customization options offered by the EMUI 3.1 are strong and diverse with varying themes available to help the user adjust the handset to his taste.
The speakers, like P8, have been incorporated in the base of the smart phone, so that sound produced while listening to music or during calls are loud and clear, not blurred because of the position of the smart phone.
Camera:
Like Huawei P8, P8 Max also carries an impressive camera feature collection with 13 MP rear camera and 5 MP front camera. The most significant features attached with the cameras are Optical Image Stabilization, 4-Color RGBW sensor, and Independent Image Signal Processor. Further additional features are new shooting modes, time lapse feature, light painting and perfect Selfie options.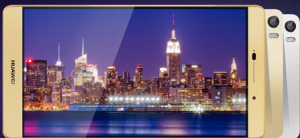 Battery:
It is quite obvious from the P8 Max's size that it would require a giant battery to run it, the whole day long. Huawei has taken care of it by incorporating a 4360 mAh power supply in P8 Max and according to the device manufacturer; this smart phone runs for full two strenuous days on a single charge. And if that's the case, then most certainly P8 Max is that smart phone which is a must have for short trips with family/friends.

Verdict:
As for the verdict, if one desires to have a big smart phone, which looks and feels exquisite plus fully loaded with extraordinary features, then P8 Max is for him. Because despite the big design the superb camera features, highly efficient processor and power packed battery make P8 Max, an excellent mega smart phone.