A Modern Shine OPPO Neo 5s Review Pakistan
A Modern Shine
OPPO claimed that since this brand built up, it has committed to provide global customers the quality product with delightful experience. After reviewing Neo 5s, it is very clear that Pakistan local smartphone brand can never compare with OPPO. Before customers get to know OPPO smartphone, they strongly believe OPPO smartphone is a little bit over priced, but after experiencing OPPO, they trust OPPO can worthy their money, because of its meticulous design, user-friendly interface and premium qualities.
Inside the box:
Inside the box, there are an OPPO Neo 5s with 2000 mAh battery, one pair of earphones, micro USB cable,  Charger, and user manual. The package box is well designed so it contains those accessories with limited space, which is also environmental friendly.  And the accessories provided along with the handset are at best in performance as well as in quality.
Design:
The interior of the OPPO Neo 5s is designed with a double-layer metallic structure for a more compact, thin, and seamless body. Compared to a normal, single-layer metallic structure, its thinner body encompasses a tough inner core and has better heat dissipation capabilities.
Camera:
This Neo 5s is equipped with rear 8-megapixel sensor with a photosensitive area of up to 1/3.2 inch, while individual pixel size is 1.4μm, wide f/2.2 large aperture, 5P lens , and a blue glass optical filter, so it is more photosensitive, has higher resolution, and is capable of blocking infrared light in an effective way, so customers can use Neo 5s to take good quality pictures in different cases. On the front, there is a 2-megapixel camera for selfies and video calling. Moreover, it is bundled with the PI image creation engine 2.0+. It contains various plugins for extended camera functionality. Functional plug-ins can be added or deleted according to your needs. You can beautify yourself or play with photos by using Double-exposure and GIF animations.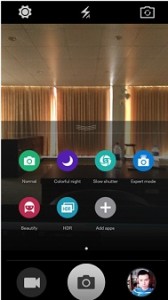 With ColorOS off-screen gesture, You can even take photos when the screen is off, just press and hold both volumes up & down keys and the phone will take a picture with-in a fraction of the second.
Hardware:
Neo 5s is built with 64-bit architecture, Qualcomm Snapdragon 410 processor Quad-core1.2GHz with Adreno 306 GPU provides. Qualcomm processor on this phone helps in smooth operation in multitasking, graphics ensure stability on the high 3D games and applications like Asphalt 8, however, the experience will not as smooth on other high-end devices. Without facing any single lag, the phone performed all the operations effectively.
1GB RAM, 8GB of internal memory and external memory card expandable up to 128GB, so you do not have to worry about storage space anymore.
User Interface & Operating System:
Neo 5s runs on ColorOS 2.0, which is based on Android customization. The current version of Android on this device is 4.4 KitKat. The color OS is one of the best customization of Android I have ever witness. This is due to some extra features I found than other smartphones which run on simple Android.
Just like many other current star handsets, ColorOS 2.0 also provides options of many gestures, including double tap to wake up. In the settings, you can find a menu labeled as Gestures & Motion. This includes a circle when the screen is off and the camera app will open up for the users, V-shape drawn on the screen when it is off will start flashlight, the users can now play music in a simple way by just swiping downwards with two fingers. ColorOS even allow users to customize the gesture, by your preference.
Screen:
Neo 5s has 4.5-inch IPS TFT touch screen, which has a resolution of 854 by 480 pixels. This screen supports multitouch and can work in gloves and wet touch input. There is a layer of Corning's Gorilla Glass 3 on top of the screen to protect it. The display is bright and adequately saturated with colors. Even the viewing angles and legibility under direct sunlight are good because of IPS. OPPO has never disappointed the users with its display quality.
4G LTE Dual Sim
Neo 5s provides you peace of mind, with the Dual SIM option. You can easily switch between work and private lives. Both slots support the 4G mobile network up to 150Mbps, and either card can be used for instant messaging, watching online videos, and surfing the Internet.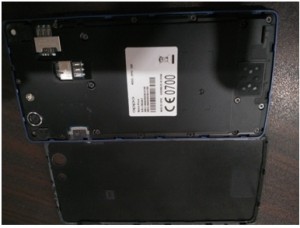 Neo 5s Nationwide Retail Price is 19,990 Rs. It has been launched in Pakistan since the end of May.
For more information, please visit:  http://global.oppo.com/pk/products/neo5s
Sample picture with Normal model (Right) and PI model (Left)